Jet Air Cleaner (2003)
---
Likes:
Works well at capturing the ďfineĒ dust that my Jet cartridge dust collector misses
The timer is great for letting the unit run after you leave the shop.
The remote is nice Ė no need to reach up to the ceiling to push buttons if you donít want to.
Iíve noticed much less fine dust covering everything in the shop. This has made a real positive impact on shop cleanliness.
Resonably quiet on Low and Medium settings. Fairly loud on High, but tolerable in the shop for short durations. I wear hearing protection when Iím using this on High for an extended period (like when Iím sanding).
Mounts are spaced to fit exactly on the underside of floor joists 32Ē on center.
Includes rubber isolaters that work exceptionally well at controlling vibration/noise transmission to upstairs. (see pics below)
Reasonably priced ($199)
Excellent manual with clear instructions

Dislikes:
Hard to install by yourself.
12x24 replacement filters hard to find (at least in my area).
12x24 carbon filters hard to find and fairly expensive (~$40 from a Jet distributor).
The unit has buttons for on/off and speed, but it doesnít have buttons for the timer. It would be nice to have those on the unit as well as the remote.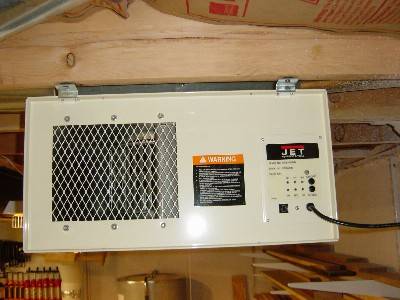 ---
© Copyright 2006 Chris Billman