Card Scraper Stand (2005)
---
I've gotten almost no shop time over the last couple months. So I've purposely not started another "big" project, and have instead started to focus on small doodads that I can knock out in a few hours.
Here's a stand for my card scrapers. It's made from walnut and maple, and finished with orange shellac.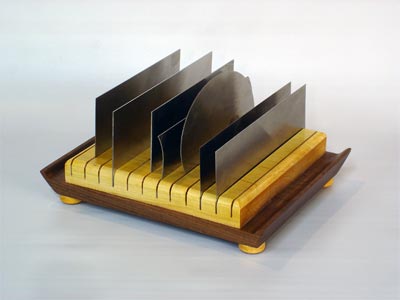 The lift on the ends of the walnut base is something I hadn't done previously, and it was quite challenging (but enjoyable) to make. I think it was subconsciously inspired by the furniture we saw on a recent trip to China. They look cool and make nice little grab handles.
Neat project that will come in handy around the shop.
---
© Copyright 2006 Chris Billman